Back To Events
September 23 - September 24
A Vastness Beyond Self: Wisdom from the Desert Douglas E. Christie, Ph.D
When
September 23 - September 24
7:00 pm - 12:00 pm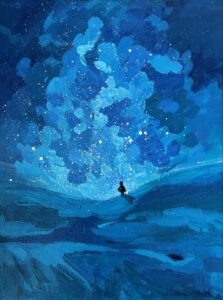 Starcatcher by Marina Beresneva, Kazakhstan, 2021
I am the night. Then I am no one. – Idea Vilarino
Event Aim and Schedule
Our aim is to nourish our community with wisdom from the Christian tradition that supports the spiritual journey beyond the limitations of self and deepens intimacy with God through various aspects of Holy Remembering, such as articulated by the Monastic desert and mystical tradition(s) conveyed by language and experiences of oneness, emptiness, darkness, intimacy, and loss/death of self.
"We are measured by vastness beyond ourselves." So claims the Acoma poet Simon Ortiz. And so it was for those early Christian monks known as the desert fathers and mothers. They entered the vastness of the desert to seek God and their own deepest ground amidst silence, stillness and emptiness. During our time together, we will give careful attention to traditions of spiritual practice arising out of the early Christian monastic tradition and their relevance to our lives today. The desert fathers and mothers developed a profound way of life rooted in the work of deep listening and oriented always toward the transformation of their lives in love. Many of the same deep desires for God, self-awareness and community that drew them into the desert are still alive in us. Our time together will consist of a dialogue between these ancient desert traditions and our own unfolding desire to live lives of depth, integrity and love in God.
We invite you to experience the deep wisdom teaching of Professor Douglas E. Christie, author of The Insurmountable Darkness of Love.
Friday, Sep 22, 7:00-8:30pm CDT, continuing Saturday, Sep 23, 9:30-Noon. In-person in the Sanctuary and online.
Registration has closed.
When
September 23 - September 24
7:00 pm - 12:00 pm